The best cafes and restaurants for children in Istanbul
The best cafes and restaurants for children in Istanbul
Explore the best places to come on our radar with a children's playground, healthy menus, delightful gardens and creative children's workshops
Although Istanbul has many options in terms of eating and drinking, the places where families with children can both eat delicious food and enjoy a pleasant time are quite limited. While making our list of the best places to go with children, we have compiled restaurants and cafes that iamistanbul.com readers will enjoy to experience, which are healthy menus, cleanest playgrounds, the most enjoyable gardens and the most creative children's workshops.

European Side Of Istanbul

Atelier Crème Caramel-Göktürk
Starting with the slogan" We Love The Big Ones as much as the kids", Atelier Kreme Caramel is a café that allows children to taste the delicacies cooked by its specially prepared cuisine. In the café, where various workshops are held, children create pleasant flavors, while adults can enjoy their coffee on tables designed so that they can see them completely during this time. Separate workshops are held for children aged 08 months – 4 years, 4-7 years and 7-11 years and older.

There is no fixed menu in the cafe where everything is prepared in a fresh House nature. Fresh and different flavors prepared for that day welcome the guests. Cheesecakes, sweet savoury cookies, sandwiches, salads, breakfast options are some of these.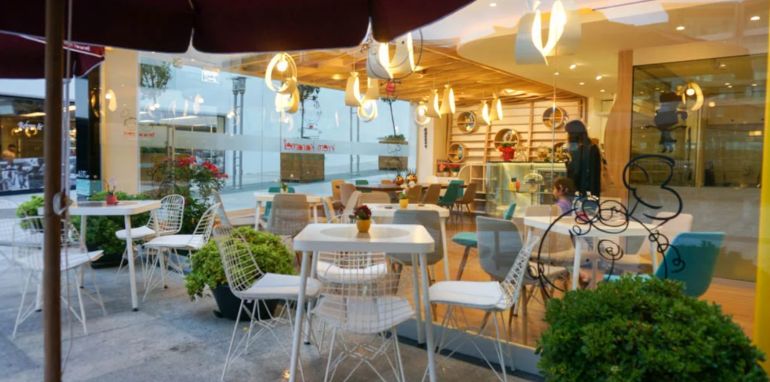 Address: Istanbul street Countrylife Residence Inner Courtyard No: A-181 Göktürk

Phone: +90(212) 3224434

Bee eat.play.love-Sariyer

Bee eat.play.love, which starts with the' Eat-Play-love ' motto.play.love is one of the cafes that families with babies and children can't give up with its healthy flavors on its menu and its delightful workshops for children. Designed with children in mind, this cafe also sells products for children. Bee eat featured with Sunday brunches.play.love serves every day except Tuesday.
Address: Tuncay Artun street  Bayram alley No:13 Reşitpaşa/Sarıyer
Phone: +90(212) 323 37 71

Eataly-Zorlu Center

Top quality Italian food you can eat, buy and be informed about what you can eat, created with the idea of collecting everything under the same roof Eately; restaurants, cafes, grocery stores, and event space guests with a full Italian experience. Located in Zorlu Center, Eataly is also becoming a favorite of families with its children's kitchen workshops. What kid can say no to pasta and pizza? This pizza and pasta are made using the highest quality ingredients, and the parents are not saying no anyway.
Address: Zorlu Center square floor  Zincirlikuyu/Beşiktaş
Phone: +90(212) 336 66 00
Fotini Istanbul – Arnavutköy
Fotini, located on the lower floor of a mansion built as a wooden carcass in the early 1900s, has been specially designed for families with babies and children. ​Fotini, a female name meaning "glittering" in ancient Greek, takes its name from one of the former owners of this mansion. Most of the family heirlooms used in the interior decoration of the cafe are passed down from generation to generation, keeping the old texture and history of the house alive.
With a supermarket, wooden toys, paints and children's books in the nursery, Fotini's seasonal menu, consisting of local and fresh ingredients with the breezes of Mediterranean, Turkish and German cuisines, changes every week. The first Saturday of every month, the raki table with the babysitter is one of the concepts Fotini has prepared specifically for parents.
Address: Francalacı street. No:26/1 Arnavutköy
Phone: +90(533) 093 99 92
Funloft – Mari Posa – Zorlu Center
In fact, Funloft as its name suggests is the meeting point of entertainment for children and young people or even anyone who carries the spirit of the child in it. Funloft is a gaming paradise where the whole family can spend enjoyable hours with its children's disco, Laser Tag rooms, bowling, karaoke room and playgrounds. The on-site mari Posa café offers delicious snacks for those who are tired of the fun and hungry.
Address: Zorlu Center, Levazım district. Koru street. No:2, 34340 Beşiktaş
Phone: +90(850) 532 43 86
Grandma's Wonderland – Silivri
Grandma's Wonderland is a modern boutique farm in which chickens, roosters, ducks and geese live, in a lush land spanning 40 thousand square meters on the road leading to the akören village of Silivri.
At the farm's restaurant, The Barn, guests are waiting for a seasonal menu, prepared with crops collected from the field. This farm, where children will be intertwined with nature, offers a short break to the busy pace of the city with its vineyards, rose trees, fruit trees, pond, pool and Yesil fields. If you wish, you can stay at Grandma's Wonderland, which has 7 boutique rooms. The farm is ideal for families with children and is open for accommodation and visits from Wednesday to Sunday.
Address: Ören farming house, Yeni Mahalle, Akören street, No:114 Silivri
Phone: +90(542) 253 50 80
İstanbul Modern Cafe Cup of Joy – Taksim
İstanbul Modern; brings together coffee and art lovers with Cup of Joy, one of the first in the "qualified coffee" sector in Turkey, in his temporary space in the modern Asmali Masjid in Istanbul. Special blend coffees, as well as gluten-free, sugar-free, vegetarian, vegan sweet-savoury and raw options are available to the museum's visitors. Istanbul Modern, where children's workshops are often held, also makes families happy with its café.
Address: Asmalımescit Mahallesi Meşturiyet Caddesi No:99 Beyoğlu
Phone: +90(212) 334 7300
Sakıp Sabancı Museum-MSA restaurant-Sariyer
The restaurant of the Academy of Culinary Arts (MSA), one of the best culinary schools in Turkey, meets with art lovers at the Sakıp Sabancı Museum. Inspired from around the world, the MSA team's favorite dishes on the restaurant's menu are presented with the comments of MSA chefs and the unique view of the museum.
You can stop by the restaurant, which is open every day except Monday, such as the museum, during the workshop where you dropped your child off, or after your visit to the museum. Visiting the unique garden of the Sakıp Sabancı Museum and watching the Bosphorus from its unique location in Emirgan is an invaluable activity for both you and your child.
Address: Emirgan Mahallesi Sakıp Sabancı Cd. No:42 34467 Sarıyer
Phone: +90(212) 323 30 30
Istanbul Anatolian Side


Beyaz Fırın-Erenköy
Beyaz Fırın, the indispensable stop for long Sunday breakfasts, is also indispensable for families with its playground area in Erenköy Branch. In addition to delicious savoury desserts, the White Bakery, which offers different cold and hot flavours for every hour of the day, also manages to become one of the favorite places of the children with its summer ice cream buffet.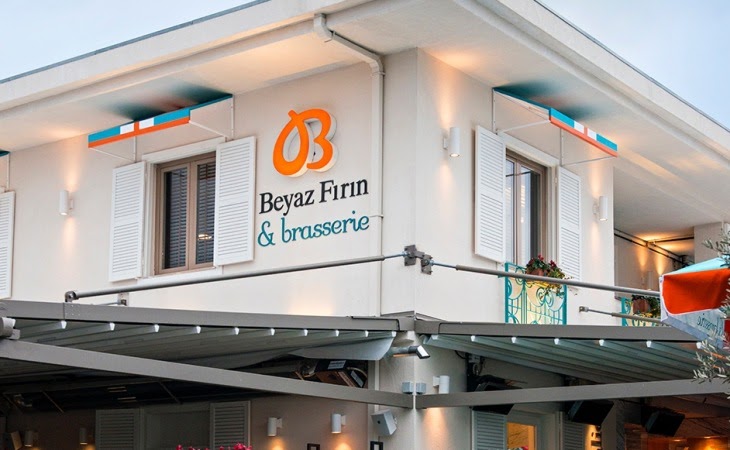 Address: Bağdat Caddesi Yener Sk. No:9 Erenköy / İstanbul
Phone: +90(216) 360 90 90
Giardino Cappuccino Cafe & Bistro – Çekmeköy
Giardino Cappuccino Cafe & Bistro in Çekmeköy offers delicious choices for adults, while giving children an experience they will never forget. At the cafe where the ponies are located, it is free to touch the horses and enjoy the joy of riding them. It is possible to find different flavors from brunch to pizza, hamburger to salad, fonduden to risotto in the menu of the place preferred by families, especially those living on the Anatolian side.
Address: Merkez Mahallesi, 34782 Çekmeköy
Phone: +90(216) 640 25 26
Riva's Club-Beykoz
Bodrum Mandarin cake, goat's milk Jam, Jam dishes like Turkey with natural linden blossom specially brought in from all over, Riva's club where you can enjoy Brunch with local and organic products, as well as the family who owns the dog and children are among the indispensable. In the large garden you can enjoy the pool in summer and the white snow in winter. If you wish, you can stay in a 19-room boutique hotel. Riva's Club, which also has A la Cart restaurant, offers different flavors every hour of the day.
Address: Sirapınar Köyü Cömert Sokak Ömerli
Phone: +90(216) 435 55 85
Cafes and restaurants with playgrounds in Istanbul
European side
Uzunya Beach Restaurant-Demirciköy
Uzunya Beach Restaurant serving summer and winter in Demirciköy Bay can be preferred for both breakfast and lunch or dinner fish restaurant. The restaurant does not have a special playground for children, but the beach in front of it and the Yesil field and forest behind the sea and beach are a natural play trail for children. What could be more enjoyable than watching your child picking up seams or trying to build a sand castle at the table where you're eating?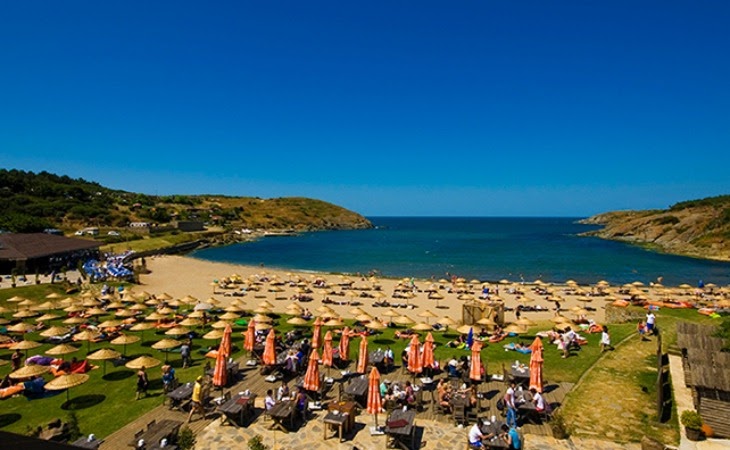 Address: Demirciköy - Sarıyer/ İSTANBUL
Phone: +90(212) 204 07 33
Anatolian Side
Sahan – Ataşehir
Sahan offers a separate menu for children in its restaurants, conscious of the necessity of raising healthy generations. With its menu consisting of soup, olive oil, salads and meat, prepared entirely according to the taste of children and the nutritional values they need, it helps to keep children away from fast food eating habits. In addition, the children's play area has a kitchen, a private cinema area and a play area where both children can cook with experts.
Address: Barbaros Mh. Kardelen Sk. No:18 Ataşehir / İstanbul
Phone: +90(216) 315 36 36
Kaşıbeyaz-Ataşehir Watergarden
Kasibeyaz, which has been in service since 1974, also delights families with children with Ataşehir Branch. With a slide, Ball Pool, event table and supervisor sisters, the children are sure to spend enjoyable hours…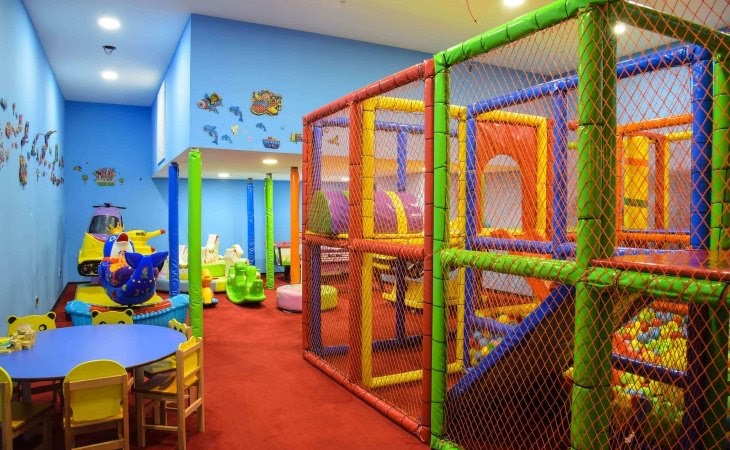 Address: Watergarden Yaşam Merkezi Barbaros Mahallesi, Şebboy Sokak No:2 Batı Ataşehir / İstanbul
Phone: +90(850) 441 20 40
Kalpazankaya-Burgazada
Kalpazankaya, named after the Byzantines printing money on the rock in that region, is now identified with the Kalkazankaya restaurant, a family-run restaurant serving its unique location and scenery. The restaurant, which has access from both land and sea, is situated on the rocks and offers views of the Sea of Marmara and the Yassı Island to its fullest; especially if you have gone at sunset, do not touch your pleasure. you will have a nice meal with tandır kebab or fish and seafood menu, while the swing, seesaw and tree house in a sheltered play park surrounded by wooden fences allow children to explore freely with nature.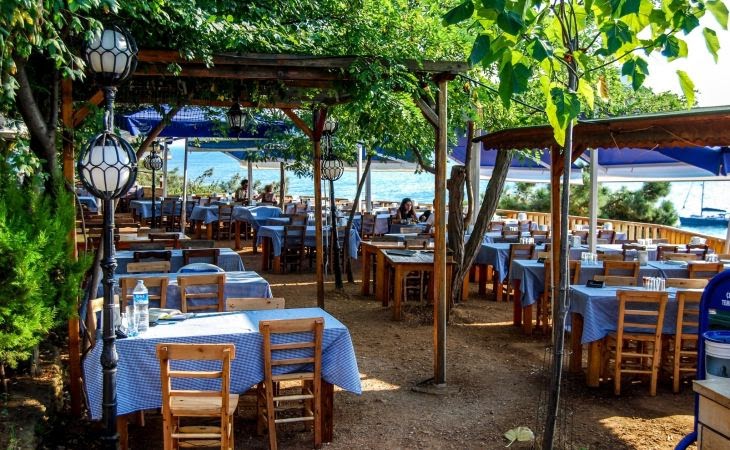 Address: Kalpazankaya Yolu Sokak No:42 Burgazada - Adalar - İSTANBUL
Phone: +90(216) 381 11 11