Best Places to See and Do
Best Places to See in Istanbul
There is so much to be done in Istanbul. Of course, it is not possible to include all of them in this article. However, when you came to Istanbul, we tried to list the 15 most beautiful things that should be on your list. While its mansions, parks, palaces stand on one side (europe) of Istanbul, and on the other side (asia), it offers endless alternatives to the visitors with places to see and see with its magnificent strait that divides the city into two.
If you are coming to the city for only a few days, be sure to save this list. You can visit Istanbul in every season with your friends or family. It is neither too profitable nor too hot to go out. Istanbul always beautiful in every season. You can find something attraction to do in Istanbul every season.
As we said that the city divides the Bosphorus into two. One is Europe and the other is Asian side. If you want to visit all of them, you need to rent a car that we strongly recommend. It is almost impossible to finish Istanbul by public transport. However, for a few days sightseeing and especially to visit the main historical areas of Istanbul, public transportation vehicles such as tram, bus, and metro, which are quite modern in Istanbul, will be sufficient. For both car rental and public transportation card can be find and buy on our website.
"Istanbul is a city founded on two continents. Let's see where are the most important places to see on every continent."
European Side:
The pearl of Istanbul, Bosphorus Tour. Departure from Ortaköy.
Strolling along the Bosphorus line is one of the things you must do in Istanbul. To see the magnificent Bosphorus, which divides the city into two, there are many Bosphorus tour departure points on both the European and Asian sides of the city.

Historical Ortaköy Mosque (Büyük Mecidiye Mosque)


To start the best addresses of this unique Bosphorus tour, you can jump on one of the boats that started the tour from Ortaköy. You can also find a Bosphorus tour from different districts like Beşiktaş, Üsküdar, Eminönü, Kadıköy, but the best address of the Bosphorus tour is definitely Ortaköy. You can even visit Ortaköy mosque, and taste traditional food Kumpir and waffles, which you can find in almost every street of Ortaköy. When your tour is over, don't forget to rest and drink something on Bebek coast. If you have enough time, you can go to Bebek via the coastal road and have a great coffee.
The address of Grilled Fish Sandwich Eminönü
If you want a fast and delicious meal, Grilled Fish Sandwich in Istanbul is eaten on boats. You can find famous Grilled Fish Sandwich boats in Eminönü, one of the oldest regions of the city.
The Grand Bazaar, which is one of the most famous historical bazaars of the city, is also here. After delicious fish, you can visit the covered streets of the Grand Bazaar for hours and find all kinds of spices and delights.

In Eminönü Grilled Fish Sandwich


You can find most beautiful coffee and nuts around Grand Bazaar. Eminönü is a historical district. Nuts and coffee shops sold on the streets of this place are also historical. At the beginning of these shops, Kurukahveci Mehmet Efendi's delicious coffee, which dates back to very old times, is the favorite of local and foreign tourists.
You can also visit the Sirkeci Train Station near Grand Bazaar and buy any electronic goods you are looking for on the floors of the Doğubank Electronic Mall, located directly across the street.
Visit Istanbul Palaces
Istanbul is a city that has hosted many empires. There are many palaces such as Topkapı, Dolmabahçe, Çırağan, Beylerbeyi, especially in Istanbul, which has been the capital of Byzantium and then the Ottoman Imperium for many years.

Palace tours


You may need to spare almost your full day to visit the palaces of Istanbul. Even one day may not be enough. Don't forget to make a good list for yourself. List of all the palaces in the Istanbul. You can find all historical places in the blog section.
After reviewing the list, you can plan a route for yourself, or take guided tours on our site. By the way, when you go to many historical places, you should definitely have a Museum card with you. So you can enjoy your trip to most places without paying an entrance fee. Your can buy museum card on our website. Thus, you can enter quickly at the box office without waiting in line.
Do not come back without seeing Sultanahmet
While you are planning your trip, we suggest that you plan to visit Topkapı Palace, Gülhane Park and then the magnificent Sultanahmet mosque. You can visit these wonderful historical beauties by walking and feel the history. Do not forget to add the Hagia Sophia Museum and Basilica Cistern, which is unique in the world, and can be reached on foot afterwards.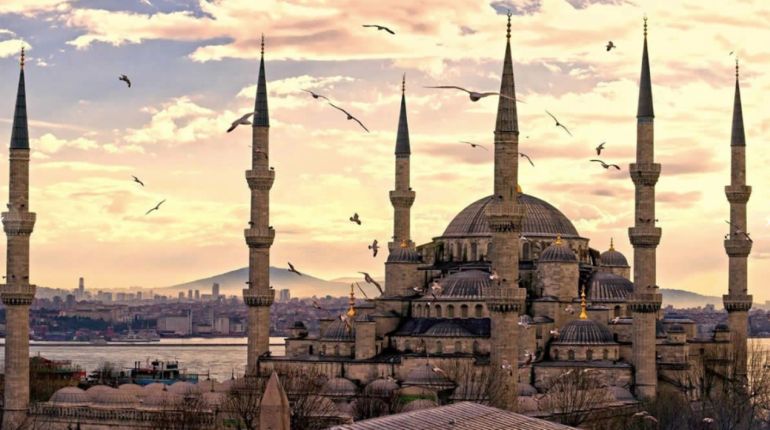 Sultanahmet mosque


Don't forget to take lots of photos in these places, each of which is a masterpiece of architecture and art.
If you can make a good planning, Grand Bazaar is waiting for you. You can find everything you are looking for in the Grand Bazaar, which is number 1 among the historical bazaars of Istanbul.
If you haven't booked a hotel yet, there are beautiful historical hotels in this historical area. You can add at least 1 night accommodation to your trip. You can use this link to view hotels around Sultanahmet.
The address for Coffee is Nişantaşı
Nişantaşı is a European city with its stone streets, cafes, delicious restaurants, boutique shops. This valuable foreign traveler a lot like the hangout spot.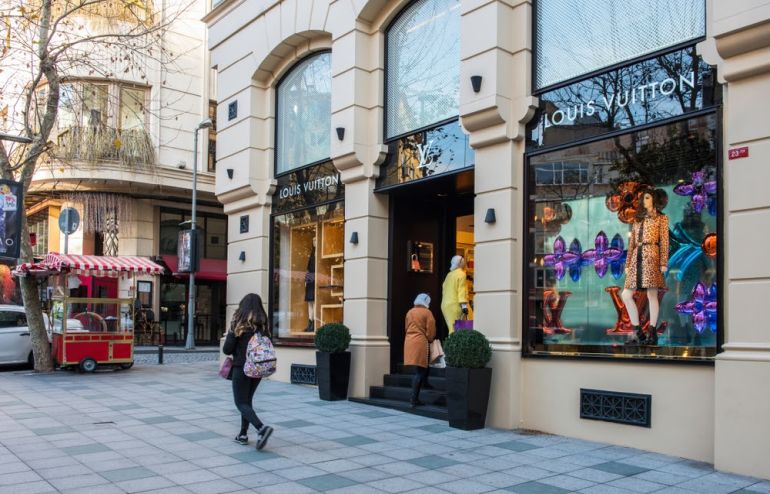 Nişantaşı streets


While walking through the back streets of Nişantaşı, either a store or a nice cafe welcomes you around every corner. Here you can spend time in luxury stores, take your coffee in beautiful cafes, and then relax in the greenery of Maçka Park, which is right next to it.
The Address of the Tea and Salep is Pierre Loti
Pierre Loti is located on the shores of the Golden Horn with its unique beauty. If you manage to get away from the Bosphorus a little, you can discover the beauties of the Golden Horn. From Haliç, you can go to Pierre Loti by cable car. Then you can watch all the beauty of the Golden Horn with a nice tea.
It is a perfect choice to watch the sunrise or sunset at Pierre Loti. We especially recommend you to be here during these hours. After this magnificent trip, you can go to Haliç, walk to Eminönü and gradually step into the history.
Balat. It is waiting to be discovered again
It is a place where you should spend at least half a day with its beautiful cafes, historical buildings and colorful houses. It is one of the most beautiful neighborhoods to take photos, especially in Istanbul.
Balat is one of the oldest districts of Istanbul. However, it wasn't very popular lately. But whatever happened, it managed to be one of the most curious places in 2019.

Istanbul Fener Balat

Balat is one of the places that must be visited on the weekend. When you come to the pad, don't forget to see the antique shops and the products sold at auction.
Galata Tower
Galata Tower, known to be built during the Genoese period, is located in the immediate vicinity of Istiklal Avenue and Beyoğlu. Galata witnessed very important moments in the history of Istanbul. Hezarfen Ahmet Çelebi jumped from this tower with his special wings and flew over the strait to Üsküdar. You can have your meal at the restaurant located in this tower or just go here to watch the view.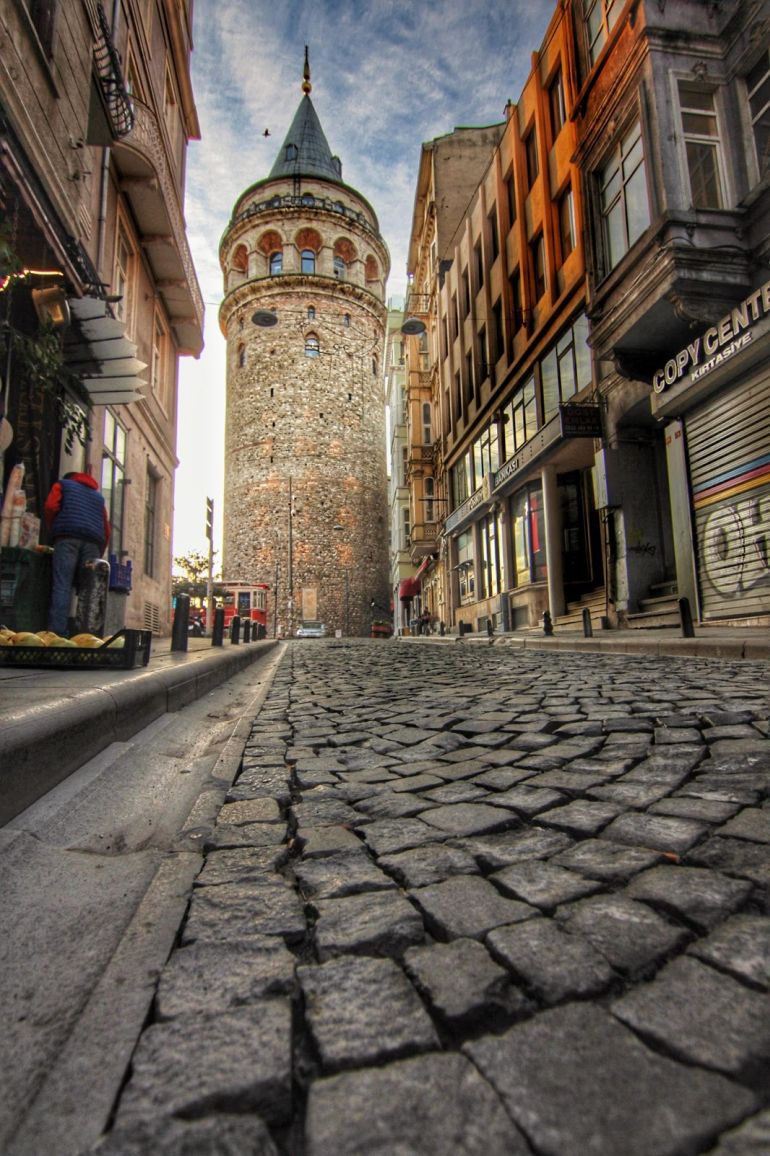 Galata

Galata is also one of the city's increasingly active centers in recent years. You can visit the galleries that open around, shop in boutiques or taste some of the city's most delicious coffees.
You can find the historical and beautiful hotels of Istanbul around Galata. If you want to take a look at the hotels in the region, you can reach here.
Taksim is center of Istanbul.
Taksim is the most visited area of ​​Istanbul. There are many things to do in Taksim with its narrow streets, restaurants where you can reach all kinds of delicious food, boutique shops, bars and nightclubs.
As for Taksim; You can walk on Istiklal Street, attend an exhibition at the Istanbul Modern Art Museum, and visit museums such as the Pera Museum and the Museum of Innocence. You can visit the Sent Antuan Church in Taksim, where religious temples are side by side.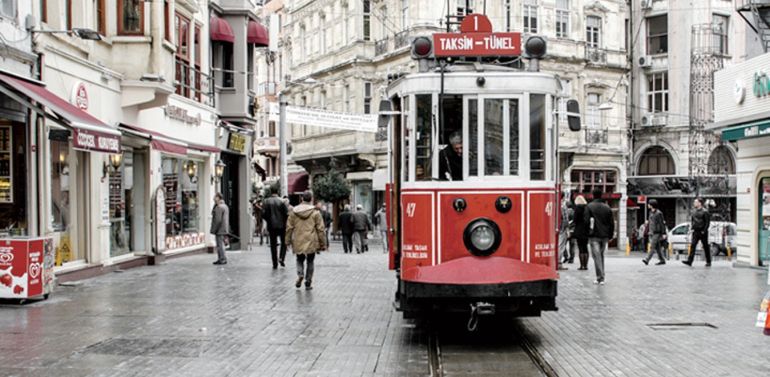 Taksim - Istiklal Street

You can go to Madame Tussauds Museum, one of the most popular museums of Istanbul, which is one of the places to visit in Istanbul in 2020.
In this museum, you can see the sculptures made of wax from different artists / celebrities from all over the world.
Anatolian Side:
Çamlıca Hill
Istanbul is a city built on 7 hills. To fully understand Istanbul and see the city from the hill, definitely go to Çamlıca Hill in a winter. Follow the European side of Istanbul, which is under the snow.
You can start your trip from Çamlıca on this side, as the place will be located on the Anatolian Side. You will see the historical peninsula on your left and the rising financial center on your right. You can watch the magnificent view of the Bosphorus.
Historical and luxury district, "Moda"
If you go to Anatolian side with one of the ferries you can get from Beşiktaş and Eminönü, stop by Moda, which is located in the immediate vicinity of Kadıköy and one of the most beautiful districts of the city.
With its tea gardens, parks and calm atmosphere lined along the beach, Moda is truly a corner of peace. It is one of the most favorite places for Istanbul residents to live in.
Princes' islands
Istanbul islands are the beautiful islands of , which are composed of different islands such as Büyükada, Heybeli, Burgaz and Kınalıada. The name is called Prince Islands, because they were used as exile places for Byzantine princes in history.

Prince Islands

Today, these islands are popular with visitors, especially in spring and summer, with their historical mansions and unique beauties. To go to the islands, you can take the ferries from Kabataş or Kadıköy and Bostancı.
We suggest you to spend 1 full day to visit the Prince Islands. After moving to one island, you can reach the other island with the next ferry. Although it is quite calm on weekdays, it is quite crowded on weekends.
Longest Street : Bağdat Street
The streets where Istanbul's most luxurious shops and the most beautiful cafes and restaurants are located. At the same time, one of Turkey's longest street in the centers for seeing the Asian side of Bagdat Caddesi coming in the first place.
Cafes and restaurants on the street where you can find the most famous brands of the world make this place a attraction center with delicious food and beverage alternatives at any time of the day.
Maiden Tower
Maiden's Tower, one of the indispensable parts of Istanbul, is very enjoyable with its sunset and the view of the Historic Peninsula especially during the summer afternoon.
You can enjoy a beautiful view by looking against the centuries-old historical legend, while also feeling the pleasant wind of the Bosphorus.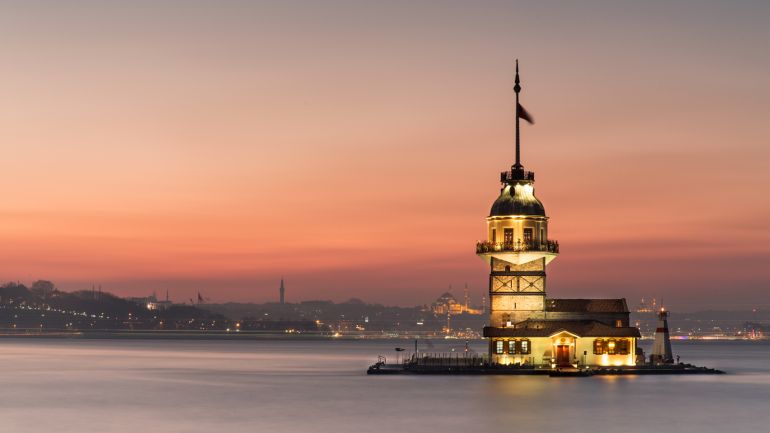 Maiden Tower

If you wish, you can reach the Maiden Tower by boats and eat.